When I dip, you dip, we SPICY MUSTARD dip! We breakfast boarded last week, so we're on to slightly healthier adventures this week; a colorful veggie board with our Spicy Parmesan Mustard Dip. Cue the drool emoji because this 3 ingredient dip will have you coming back for more. Do you like Spicy Stout Mustard? Parmesan Cheese? Mayo? Good, then you're gonna love this. Just mix it all together and voila, you're done!
Spicy Parmesan Mustard Dip is obviously delicious with veggies (come on, do you not want to eat this whole board above?), but it's also super good with just about anything. Try it with potato chips, pretzels or pita chips. Spread it on a sandwich or dip some chicken in it! You could also put it in a small baking dish with spinach and artichokes and bake at 350 for 30 minutes for a warm dip!
If that doesn't make you reach for your jar of Spicy Stout mustard, we don't know what will! Oh, and bonus, if you're out of mustard, it's the perfect week to stock up. We have 3 for $25 happening online now through Friday (3/29)!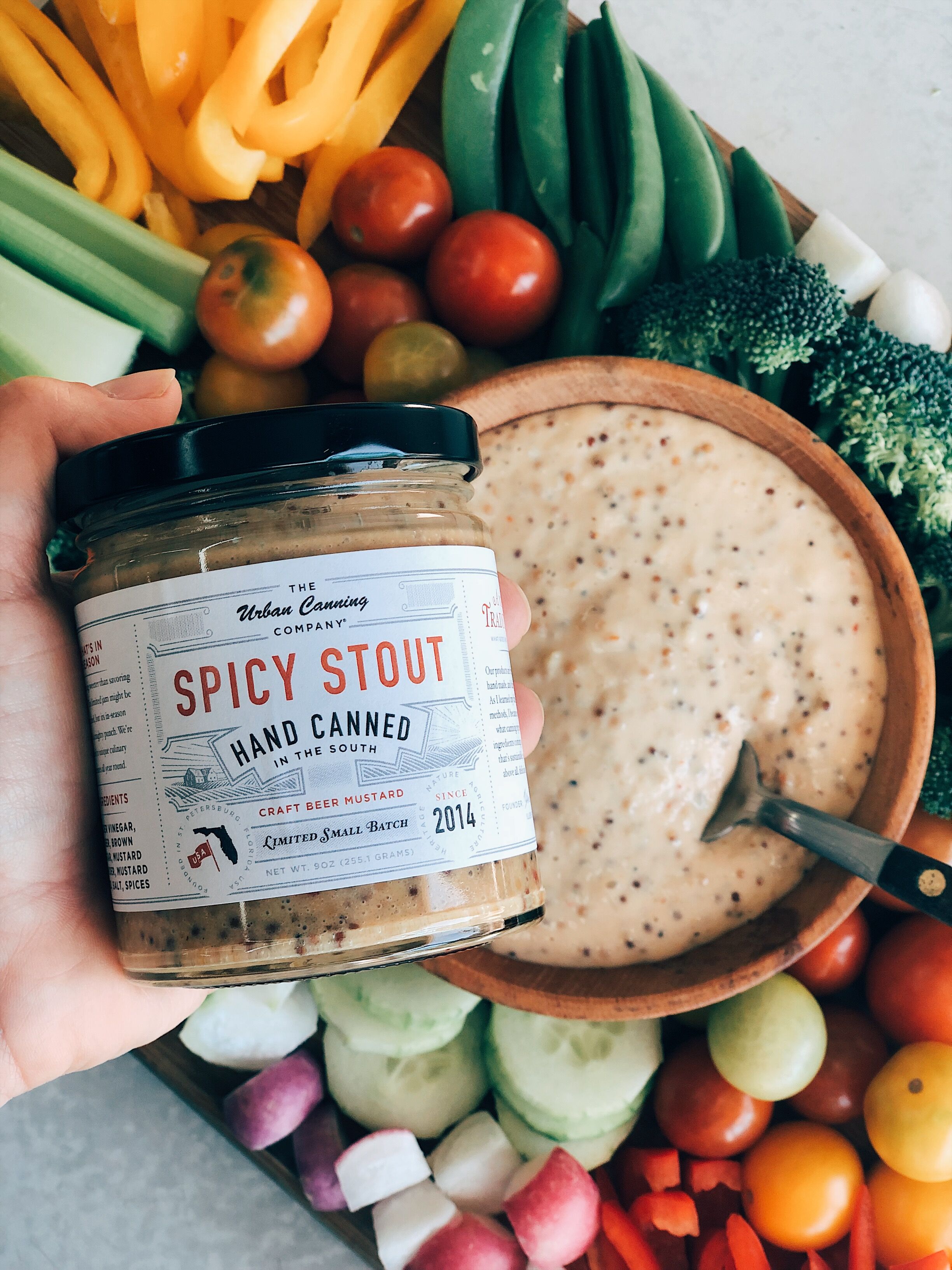 Spicy Parmesan Mustard Dip
Recipe makes 1 1/2 cups
• 1/2 cup mayonnaise
• 1/2 cup Spicy Stout mustard
• 1/2 cup parmesan
Mix all ingredients together in a food processor or blender.
What are your favorite foods to eat with a dip?
If you've had a chance to use our preserves in a dish or want to share a canning recipe with us use hashtag #theurbancanningco and find us on Instagram @theurbancanningco. To see a list of our markets and events head over to our Market's + Events page or Shop Online! Cheers!