A few Indie Flea's ago I had the pleasure of coming across this amazing local vegan bakery, Alevri Marketplace. After walking past a table piled with beautifully decorative cookies and donuts that were adorned with rose petals, fresh lavender buds and nuts, I had to stop and investigate. My first purchase from Dawn was a doughssant, which is her version of a donut croissant hybrid, and after eating it I literally felt my life change. One of biggest questions I had after eating it was how in the world could it have possibly been vegan? It was just too buttery, fluffy and edible to be vegan! But, that is the magic of Dawn's baking. Soon after the Tampa Bay area started to really take notice. I began finding her goods popping up all around, including in the bakery case at my favorite local coffee shop, Bandit Coffee. It was there that our collaborations were born.
Last week I had the pleasure of visiting Dawn at her home where she made me a batch of southern biscuits while her husband steeped us tea. I have to admit that I love visiting other makers in their home. I get to take a peek into their life, see what they collect and get a window into the roots of their art. It also really makes me happy to see creators who are able to sustain themselves doing what they love to do.
By hand she measured out flour, cut in butter from the freezer and rolled out a small batch of biscuit dough. I am a terrible baker, I don't have the precision for it, so it was really nice to watch her throw this dough together with such ease. I got to ask her questions about herself; She's from Baltimore originally and her Aunt taught her how to bake growing up. Her mom wasn't a big cook and she ate a lot of mac n' cheese. After moving down to Tampa she worked as the baker for Cafe Hey.
I peeked around her kitchen while the biscuits were in the oven and there were lots of cute vintage kitchen utensils for me to get heart eyes over.
We spread the finished biscuits with jam and they were just as good as they look here!
For the last several years I have wanted a great place to eat biscuits in St. Pete, but we really don't have anywhere that serves true home style southern biscuits. Whenever I travel I always run across a biscuit joint! Unable to make good biscuits myself I've been searching for a bakery to collaborate with on this. I'm very excited to announce that once a month Dawn will be baking biscuits for The Urban Canning Company and we will also have coffee from Bandit Coffee in our tasting room. We'll have a full on jam bar, compound "butters" and a "Biscuit Brunch Picnic Box". Bonus; These biscuits are delicious for EVERYONE to eat and are VEGAN.
The first Biscuit Brunch is happening Saturday, February 25th from 11-1. More details will follow! Check our events page often for updates!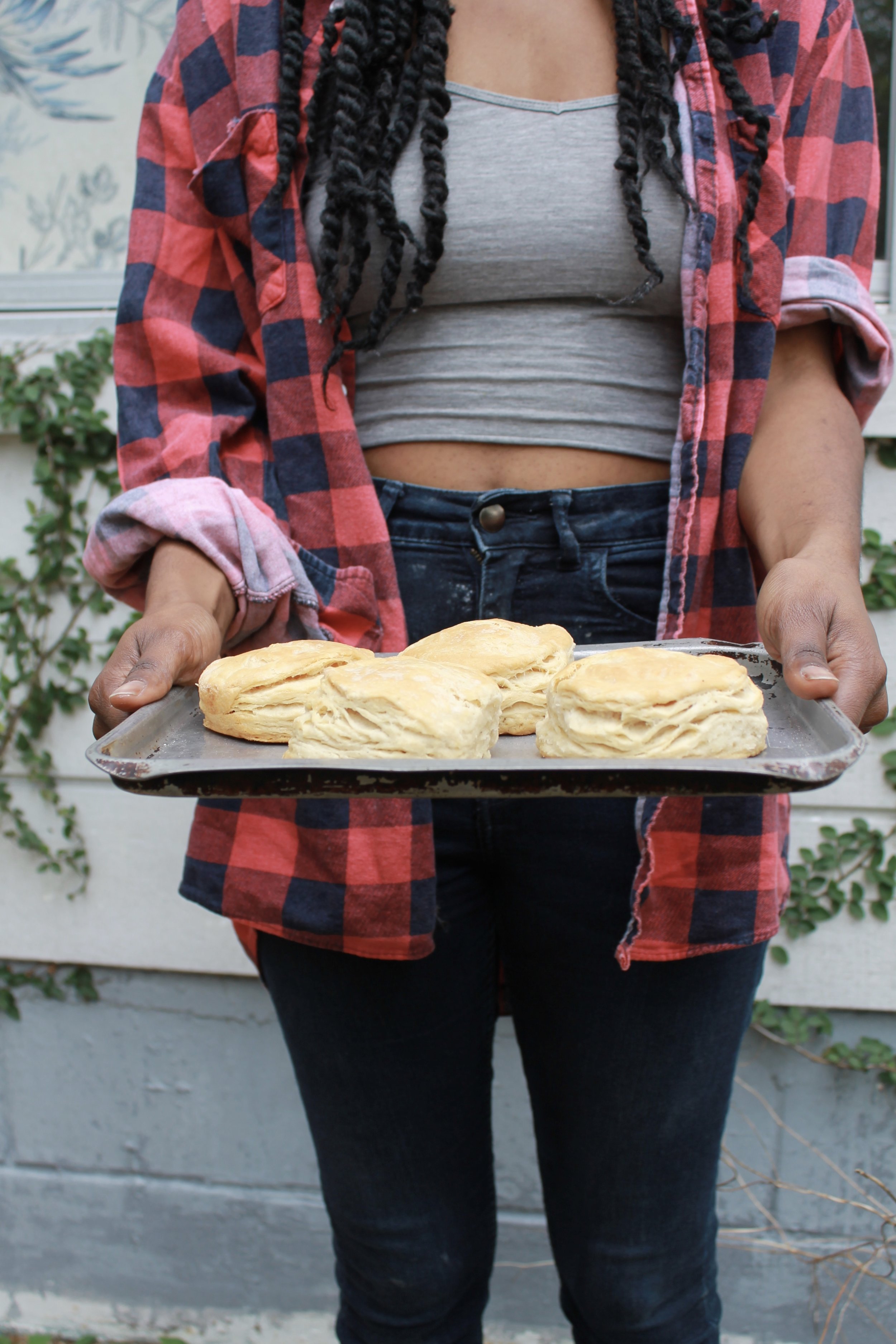 You can also find doughssants that we created together at Bandit Coffee for the next few weekends! The doughssants are filled with Strawberry Balsamic + Cracked Pepper Jam!