It's just before Easter, and we're all about EGGS this week. We love 'em fried, deviled, scrambled, and definitely pickled. Yup, you can pickle eggs! While it does have a much longer curing process than most pickles, it's totally worth the wait and we have a feeling you won't want to eat them any other way! You can use your leftover dyed Easter eggs too, and have the best breakfast or snack in a month.
This week we've teamed up with our friends Bill and Frances Hamblin from Hamblin Hills Farm in Parrish, Florida. They offer pasture raised eggs, chicken, and beef. If you're looking for a way to source humanely raised meats and eggs, Hamblin Farms is a great choice for knowing the animals are cared for and living free on the pastures. (Bonus, if you order ahead, you can pick up in Parrish, St Pete, or Oldsmar!) We're totally sold that happy chickens make better eggs, because the yolks on these beauties were golden, and we can't wait to try our pickled eggs.
We're teaching you how to make Sriracha Pickled Eggs and Turmeric Pickled eggs today. This is a super beginner pickling recipe because it doesn't require a canner at all! So let's do it!
Pickled Eggs
Makes 2 pint jars of each pickled egg (this recipe can be multiplied or halved to make more or less jars)
Ingredients:
• 2 dozen hard boiled eggs
Sriracha Pickled Egg Brine:
• 1 cup apple cider vinegar
• 1 cup water
• 1/4 cup Sriracha
• 1 TB pickling salt
• 1/2 TB brown sugar
Turmeric Pickled Egg Bring:
• 1 cup white vinegar
• 1 cup water
• 1/2 cup sugar
• 1/4 cup mustard seeds
• 1 TB pickling salt
• 1/2 tsp turmeric
Instructions for pickling:
1. Hard boil your eggs for about 5 minutes and cool in the fridge or an ice bath. If you're using farm fresh eggs, we recommend steaming them for 10 minutes instead so that they're easier to peel!
2. Wash your jars, lids and rings in hot soapy water by hand. Place lids and rings on a dish towel on your counter or table.
3. Choose which pickled egg recipe you want to do and mix all brine ingredients listed above into a non-reactive sauce pan and bring to a boil. Or do both!
4. While waiting for the brine to come to a boil, peel the eggs and add them into the jars. You should be able to snugly fit 6 eggs into each jar.
5. Once brine comes to a boil take it off the stove and stir for a minute.
6. Place the canning funnel on your first jar and ladle in brine leaving a 1 inch headspace. (1 inch headspace is the last line of the thread at the neck of the jar). Fill all jars this way.
7. With a damp cloth or paper towel wipe the rim of each jar.
8. Add lids and rings to each jar, closing each finger tight. You don't have to crank it down hard, just snug.
9. Allow to cool over night on the counter.
10. Refrigerate next day. Allow to cure in the fridge for 1 month for maximum brine diffusion.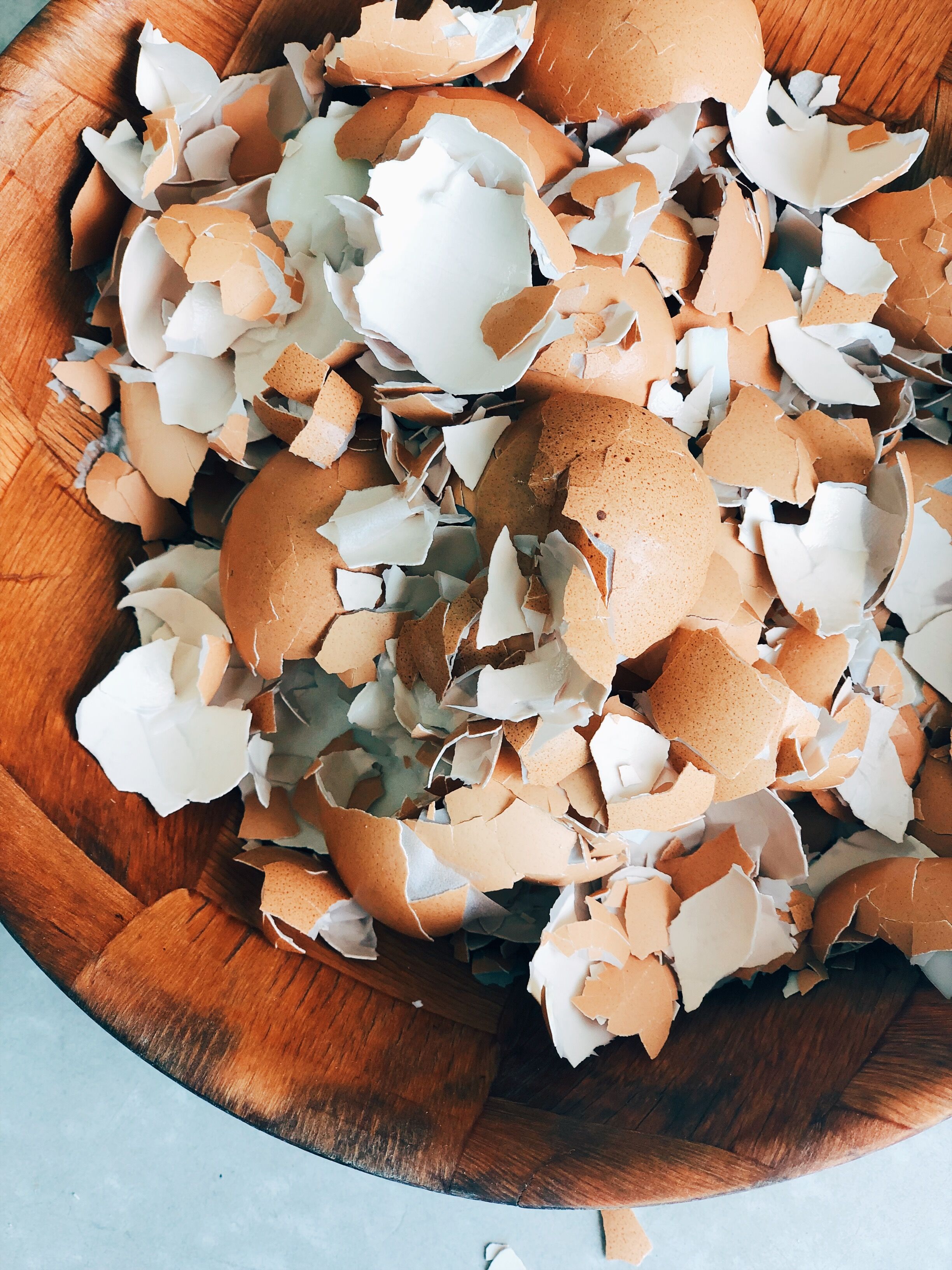 P.S. Don't forget to save your eggshells for compost or fertilizer!
Are you intimidated by the canning process? We don't want you to be! Canning is a preservation method used for hundreds of years, and we want you to feel confident doing it at home! We teach how to pickle, can, and jam in our workshops. Click here to find a class!