You know those morning where you want something cozy, comforting, and a little sweet for breakfast? We got you. We know what you're really wanting is a warm slice of pie, but let's be honest, we know we can't eat that most mornings. In comes our Apple Pie Toast, which is dare we say it better than eating actual pie for breakfast?! We toasted some break in the cast iron skillet, smeared some Mascarpone cheese on it, and topped it with our Spiced Apple jam, granola, and an apple slice. A little savory, a little sweet, a lot satisfying.
Now if you don't know anything about our Spiced Apple jam, it's basically apple pie in a jar. With a flavor complex similar to apple butter, but all the spices you'd find in an apple pie. Check out what's in it in our picture below.
• Ginger
•Cinnamon
• Nutmeg
• Clove
• Allspice
• Granny Smith Apples (to balance out the sweetness)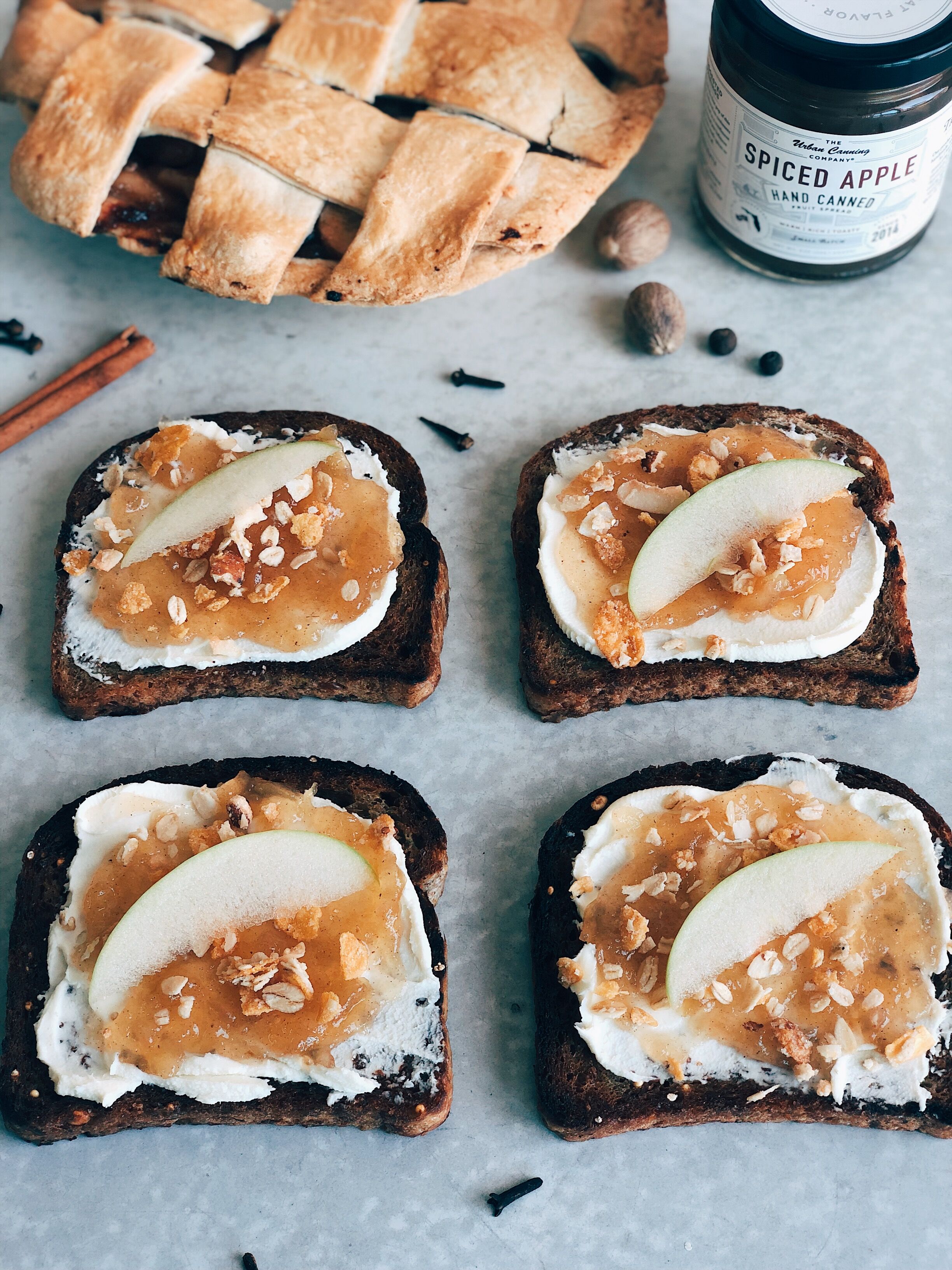 To create 1 piece of toast you'll need:
• 1 slice of multi grain bread
• 1/4 cup of olive oil
• 1 Tb Mascarpone cheese
• 1 Tb Spiced Apple Jam
• 1 Tb granola
• thinly sliced granny smith apples
• cast iron skillet
Instructions:
1. Heat up your cast iron skillet on medium high.
2. Now add 1/4 cup of olive oil to the pan.
3. Fry both sides of the bread slice until toasted and brown. It takes me close to 5 minutes per side. (NOTE: If you are making more than 1 piece of toast you will need to keep adding 1/4 cup of olive oil in the pan before each slice of toast goes in)
4. After the bread is fried smear the Mascarpone cheese all over it.
5. Next top the Mascarpone cheese with the Spiced Apple jam, granola, and apples.
6. Add a dash of cinnamon and enjoy!
If you've had a chance to use our preserves in a dish or want to share a canning recipe with us use hashtag #theurbancanningco and find us on Instagram @theurbancanningco. To see a list of our markets and events head over to our Market's + Events page or Shop Online! Cheers!