It may be sweaty and hot out still, but we're channeling as many Fall vibes as we can! Nothing reminds us of Fall more than Caramel Apple jam. Add a little whiskey and homemade fermented wild ginger soda, and you've got a warming, spicy cocktail on your hands!
You may remember our Wild Fermented Soda blog from a couple months ago. We loved our peach scrap soda so much, we knew we wanted a new flavor for fall. Enter in: ginger fermented wild soda. Read on to see how to make our spritzer AND fermented ginger soda! Cheers!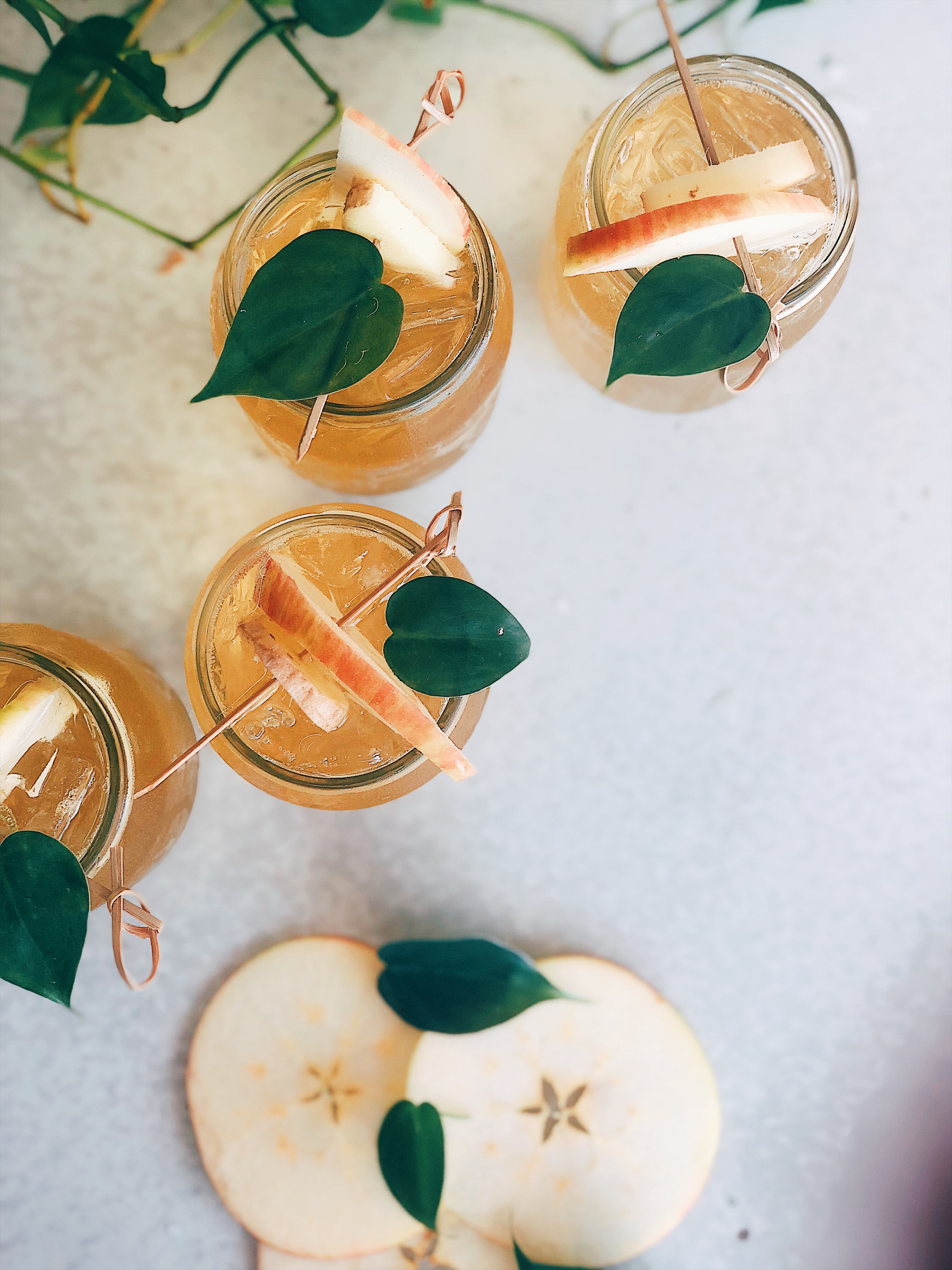 Caramel Apple Ginger Spritzer
To create the spritzer:
• 5oz Apple Cider
• 1 oz whiskey
• 1TB Caramel Apple Jam
• 4 oz fermented ginger soda (see below)
• Apple slices for garnish
Instructions:
Add all ingredients to your mason jar, shake and serve!
To make the fermented ginger soda, follow the instructions below or head over to our Wild Fermented Soda Blog (subbing fruit scraps for ginger!)
To make wild fermented ginger soda:
2 cups fresh ginger

1/2 cup sugar

1/2 cup water

1/4 cup ginger bug

1 quart of purified water
Instructions:
To create soda simmer 2 cups of ginger with 1/2 cup of sugar and water for about 15 minutes until it becomes a juice.

Strain away the ginger. Allow the juice to cool down completely.

Next add 1/4 cup of ginger bug to the fruit juice and the quart of water. Stir all together.

 Bottle the mixture into swing top bottles.

Allow the soda to ferment at room temperature for 3 days. After 3 days, stick your bottles into the fridge for at least 1 day.

Enjoy! (Be careful opening them, they have a tendency to be wild with carbonation!)
If you've had a chance to use our preserves in a dish or want to share a canning recipe with us use hashtag #theurbancanningco and find us on Instagram @theurbancanningco. To see a list of our markets and events head over to our Market's + Events page or Shop Online! Cheers!