This week we visited one of our favorite St. Pete local spots, Brooklyn South. With love all the way from Brooklyn, this little shop is our go-to for sandwiches and specialty cheese and meats on Central.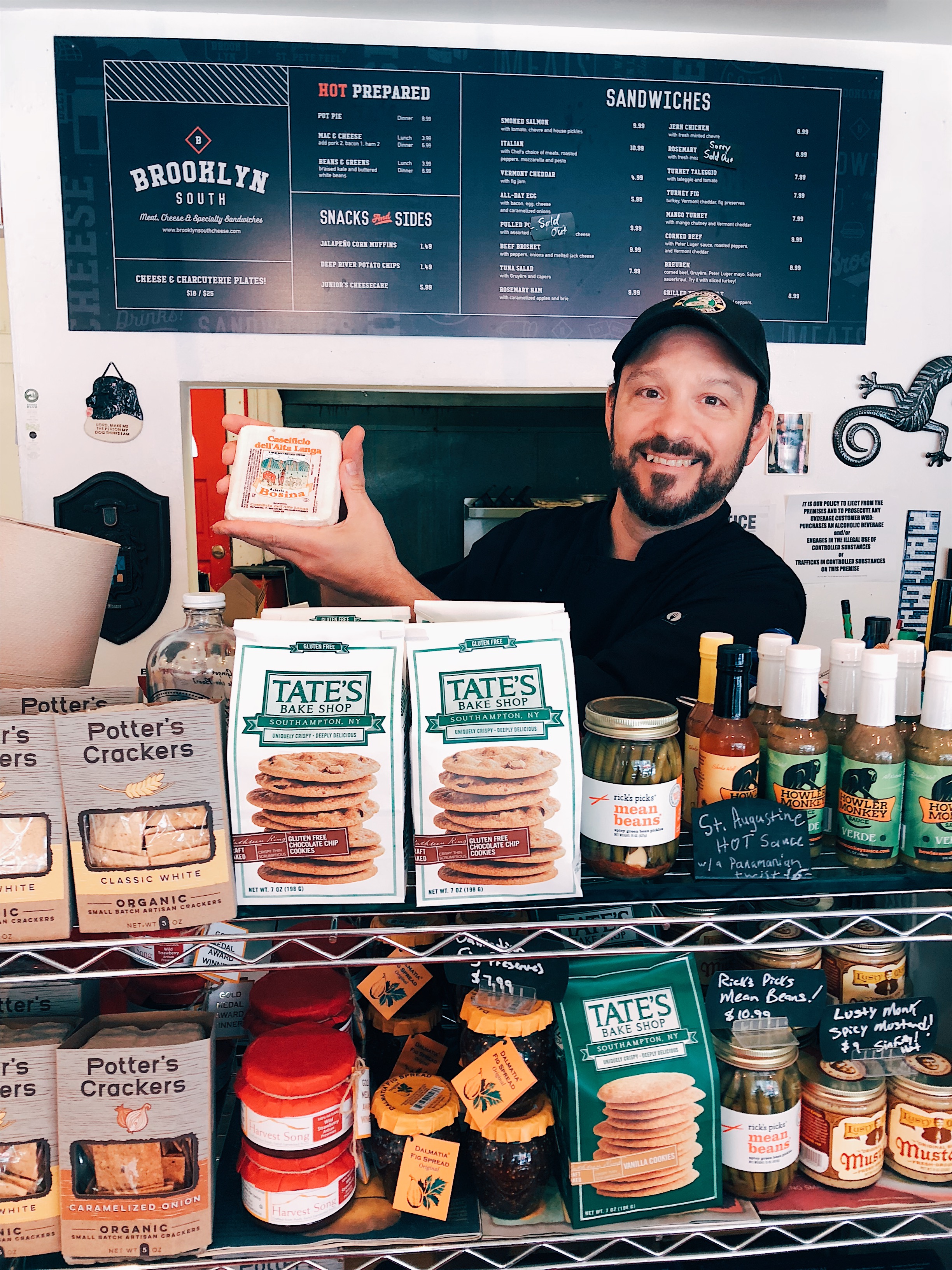 Meet Matt Bonano, deli owner and local cheesemonger!
We spent some time with Matt this week talking about all things cheese, sandwiches, small business, and community*. By now you all know we love cheese. But we hold a special place in our hearts for specialty cheese. That's right, cheese you won't find at a grocery store. Cheese that has such interesting stories and complex flavors they are perfect matches for our jams. So we picked out four cheeses and one of our jams to match with each type of cheese.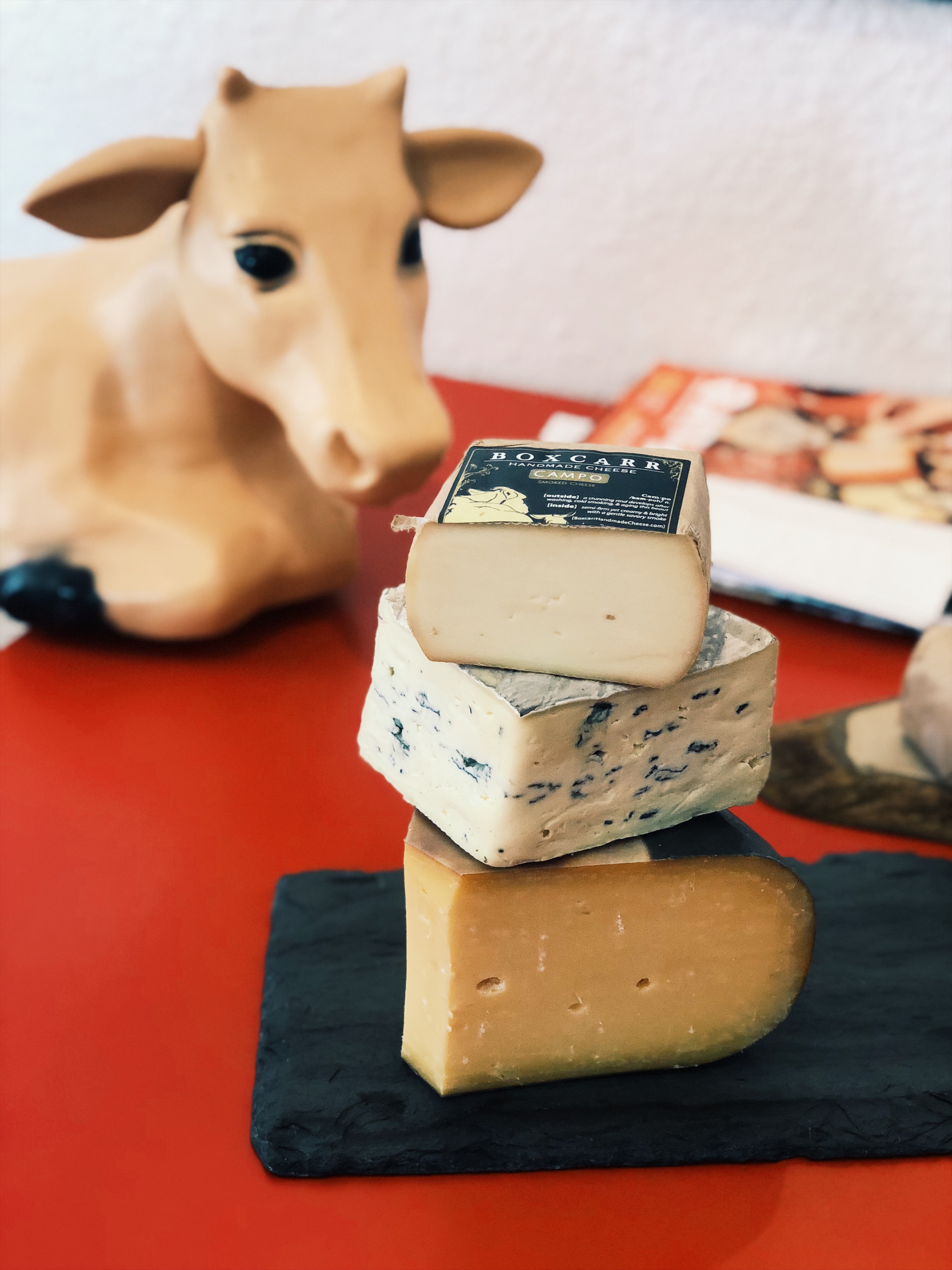 This cheese comes from North Carolina and provides a firm, but creamy texture. It tastes bright with a gentle smoke flavor from the cow milk. The tang and smokiness in our Smoked Tomato jam will pair deliciously with this cheese.
Making blue cheese in southern Germany creates a surplus of milk. So out of that came Cambozola Black Blue cheese. Using a mix of gorgonzola cultures and camembert this cheese is aged in dark caves making the cheese over time savory, and salty, with a hint of sweetness. We chose our sweet, decadent, and slightly floral Blueberry Lavender jam to pair with this cheese. If there's one thing we love it's a blue with blueberries.
This is a special gouda because by the time it gets to Saint Petersburg, it's already 2 years old! It spends a year and a half alone just curing in Holland. What makes it really special is that the cows that produce the milk to make this cheese feed on lush grass grown from blue clay. Blue clay is a very nutrient dense soil because Holland is actually below sea level – so you can imagine how fresh and delicious this cheese is! Don't forget to enjoy the tyrosine crystals that crunch when you bite into them, a flavor punch for sure. The spice and subtle sweetness of our Pear Habanero jam will have all your senses tingling.
Robiola Bosina is Italy's answer to Brie. While not the same, it has a similar soft and creamy texture. This cheese combines cows and sheeps milk and is aged 30 days to reach its peak flavor. Expect a cheese that's gamey, sweet, milky, soft, and rich. If you're not already drooling over this, be sure to pair it with our Chai Grape, a sweet spiced jam that will have you coming back for more!
Next time you're having a wine and cheese (and jam) night, or looking to wow at your next dinner party/date night, be sure to stop by Brooklyn South. Matt will help you find the perfect cheese for the occasion and you'll leave with some new knowledge.
If you need a restock on your jams, or want to try a new one for cheese pairing, you can find us at most markets around Tampa Bay, online, or at any of our stockists!
*One of the community topics we were talking with Matt about was summer. Summer is a very hard time for all local businesses, especially in St Pete. A friendly reminder to please, please get out and continually support your favorite local companies. We really do depend on EVERY single purchase to get through these hot, inactive summer months.
So much love, Urban Canning