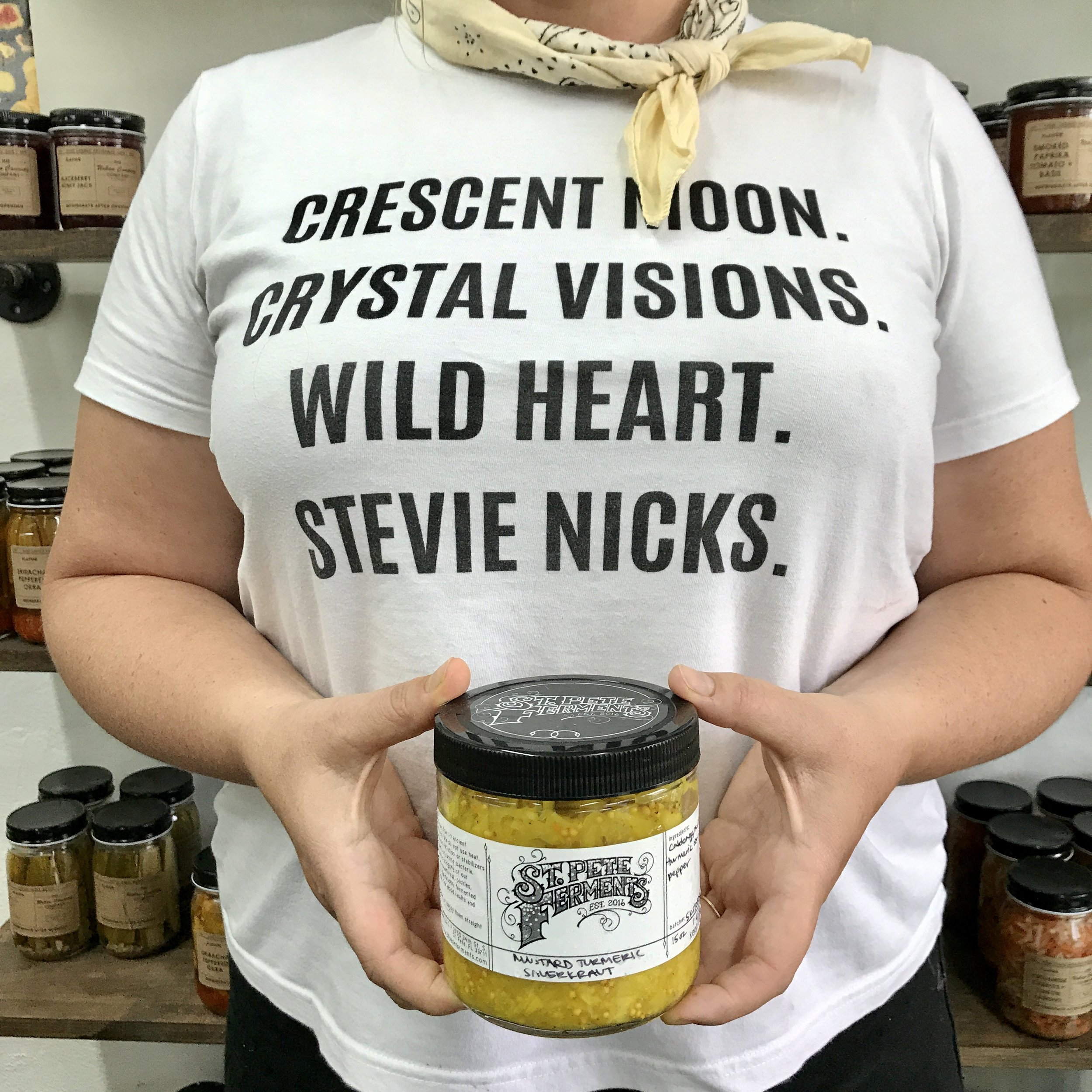 This past month my dear friend Sarah Arrazola from St. Pete Ferments joined me in The Urban Canning Kitchen to ferment together! We created a new-to-us sauerkraut recipe, Apple Turmeric. Watch how we made it below and get the written recipe as well!
To create the Apple Turmeric Sauerkraut you'll need:
Equipment:
crock, large jar, or other food safe vessel with a solid cap. (make sure it is food safe!)
fermenting weights or cabbage leaves
knife
mandolin (optional)
small grater (optional)
bowl to mix
Ingredients:
4 lbs. cabbage
2 1/2tbsp. sea salt
2 medium apples
2 - 3 inches turmeric root
Directions:
Wash cabbage heads thoroughly, removing outer leaves. Wash apples and turmeric, too.
Cut cabbage heads into quarters and cut out the cores.
Slice cabbage quarters into small shreds, using a knife or a mandolin if you have one.
Slice apples julienne style, removing the cores, seeds and stems as you go. You can remove the skins if you wish, but it's not necessary.
Grate the turmeric using a small grater. You can also chop it finely with a knife.
Place shredded cabbage, sliced apples and grated turmeric into a bowl.
Sprinkle salt into the mixture a little at a time, massaging the mixture with your hands. The salt will pull water from the cabbage and apples, which will help make the brine for your ferment. Taste the mixture as you go along so that you don't over salt.
Once you have added all the salt, mix the ingredients by massaging and squeezing. You'll know it's ready when you can squeeze the mixture and liquid drips easily.
Pack the mixture into your vessel, tamping it down using your fist or other utensil. The brine should begin to rise above the vegetable shreds.
Place a weight on the cabbage that fits inside your vessel. You'll want to keep the cabbage submerged.You can also cover the mixture with a sacrificial cabbage leaf and tamp it down often during fermentation. It is rare but should any mold grow, it will grow on your sacrificial leaf and not on your ferment. Cover vessel with a solid cap.
Leave the cabbage to ferment for about 7 days, give or take. You will notice CO2 bubbles starting to form, and you may even be able to hear a slight "hissing" noise. These are all good signs that indicate the bacteria are doing their thing and your cabbage is fermenting! You may "burp" the sauerkraut once or twice a day during fermentation, and feel free to tamp it down below the brine, as the creation of CO2 bubbles will cause the cabbage shreds to fluff up above the brine level.
Check the sauerkraut every couple days. The sauerkraut is protected in its anaerobic brine. Taste your kraut after about a week. If it's not quite ready, let it ferment a little longer, occasionally taste testing it. It should be tangy and sour when fermentation is complete.
Once your sauerkraut is fully fermented and to your liking, place it in the refrigerator. This slows down the rate of fermentation and essentially "locks" your sauerkraut at your preferred flavor. You'll want to continue to tamp it below the brine as you eat it. Properly stored sauerkraut can last more than a year.
Recipe courtesy of St. Pete Ferments
If you've had a chance to use our preserves in a dish or want to share a canning recipe with us use hashtag #theurbancanningco and find us on Instagram @theurbancanningco. To see a list of our markets and events head over to our Market's + Events page or Shop Online! Cheers!