As the weather warms up and BBQ season approaches for us folks in the south, I begin to get a hankering for some picnic classics like pickled eggs. Great with a cold beer on a hot day, or made into a twist on deviled eggs like we've done here, tons of occasions call for this savory unique snack. There aren't many things I can compare the renewed texture of a pickled egg to, but that rubbery snap is something to get addicted to.
The first part of this recipe is pickling the eggs. This particular variety is pickled in a sriracha brine. If you've got any BBQs or dinners planned these eggs taste best if you let them sit for about a week, so plan in advance. Slow food always takes time. To create these bad boys you will need; A gallon glass jar with a lid, 2 -3 dozen eggs (we procured ours from Local Roots), apple cider vinegar, water, a stock pot, sriracha, pickling salt and a half a beet for their pretty pink color.
RECIPE
2 or 3 Dozen Eggs
6 Cups Apple Cider Vinegar
6 Cups Water
1 1/2 Cups Sriracha (Or you could make your own. I've used this recipe via Serious Eats and it works well)
6 TB Pickling Salt
1/2 Peeled Beet
INSTRUCTIONS
1. In a large stock pot place eggs and cover with water until it's about an inch above the eggs. Place the pot on the stove and turn it on high bringing the water to a boil. Once the water is boiling turn a timer on for 1 minute. After 1 minute, take the eggs off the stove and allow them to cool. Strain them, and allow them to cool again over night.
2. Peel eggs and rinse them off to make sure there isn't any little pieces of shell left on them.
3. With hot soapy water wash your gallon size glass jar and lid, or put it through your dishwasher.
4. Place eggs in the gallon glass jar.
5. In a large stock pot add vinegar, water, sriracha, the half a beet and pickling salt. Place it on the stove and turn it on high allowing the brine to come up to a full rolling boil. To blend flavors allow it stay at a rolling boil for about 3 minutes.
6. Take the pot of brine off the stove and pour it over the eggs in the glass jar. Screw on the lid tightly and invert the jar for 10 seconds, then turn it right side up and place it on a bakers rack, counter or the top of your fridge and let it set for a week.
Now I'm about to tell you something that I'm sure will be surprising or that some people will disagree with, but nothing weird is going to happen to these eggs other than the pickling process itself. You can fully not do this, but I've made these a ton of times and the PH is so low in them that they are preserved. Inverting the jar allows you to disinfect the head space, but the initial pouring of the boiling brine into the jar sterilizes the rest of the jar. If you don't feel comfortable doing this, after they sit overnight and cool down you can place them in the refrigerator to rest for a week. Note: You can also reuse this brine.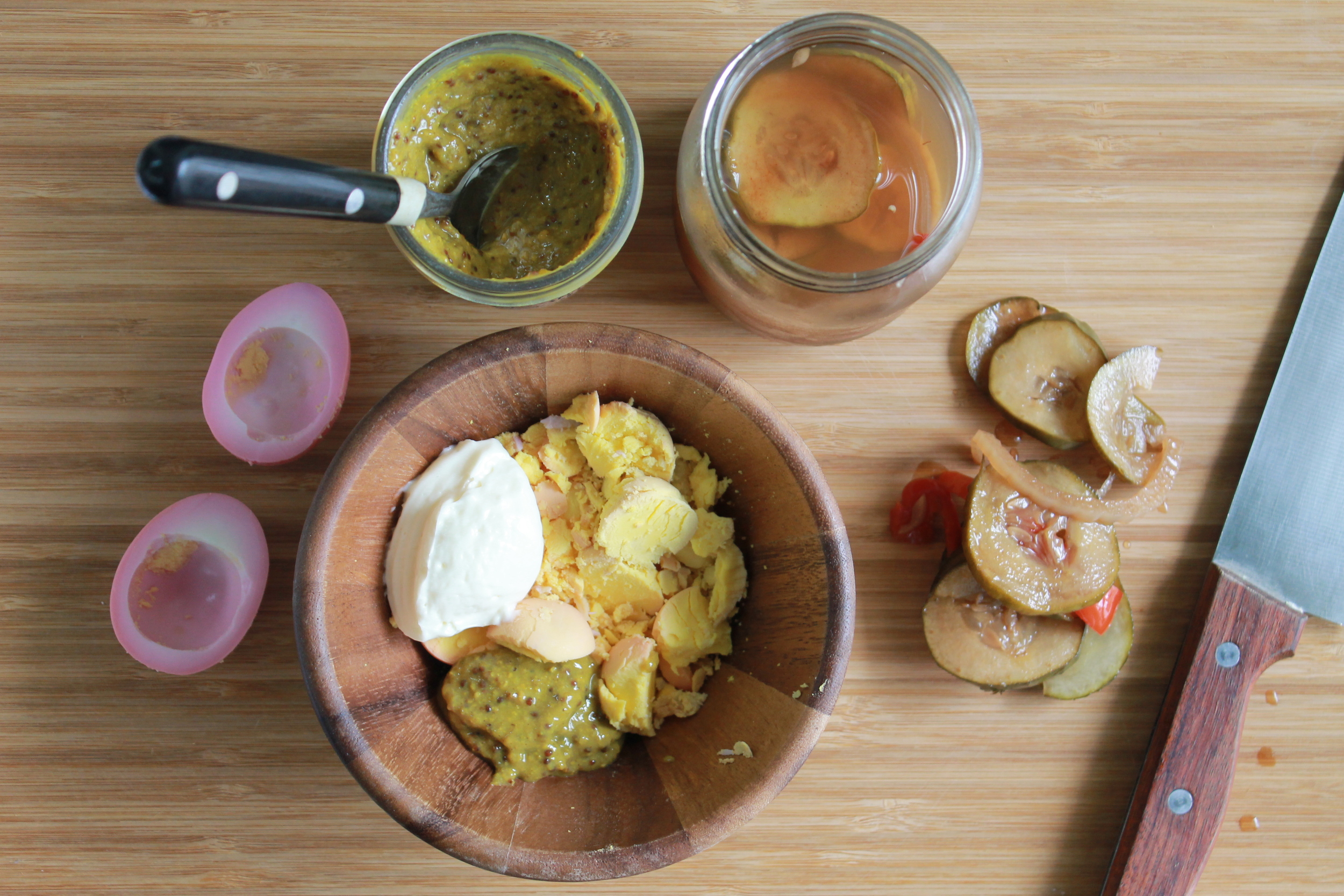 After the eggs pickled I took out 6 of them and cut them in half. Then I took out the yolks and placed it into a bowl with 2 TB of mayonnaise, 2 TB of our German Sweet N Spicy IPA Beer Mustard and 4 TB of our Cinnamon Clove Sweet Pickles (made in collaboration with Little Pond Farm) which I diced up into a relish. I used a fork to mush and stir it all together into a creamy whip. I placed that whip into a piping bag and squeezed it into the empty egg halves. I topped it with a blueberry from Peach Pit Farm at A Simpler Place In Time and a calendula petal from Frog Song Organics in Hawthorne, Florida, then finished with a sprinkle of smoked paprika.
Enjoy!
You can find the German IPA Sweet N Spicy Beer Mustard out at the farmer's markets with us, at one of our retail partner's locations and they are coming to our online store which will be launching soon. The Cinnamon Clove Sweet Pickles are exclusively offered at our Farmer's Markets locations. If you've had a chance to pick it up before we'd love to see how you're using it! Use hashtag #theurbancanningco and find us on Instagram @theurbancanningco. To see a list of our markets and events head over to our Markets + Events page! Cheers!